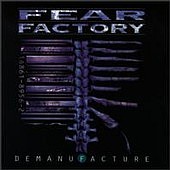 Demanufacture (digipack)
Artist: Fear Factory
Year: 1995
Genre: Rock
Sub-Genre: Metal
Notable Songs: Demanufacture, Zero Signal, Replica
Tracks:
01 - Demanufacture (4:13)
02 - Self Bias Resistor (5:12)
03 - Zero Signal (5:57)
04 - Replica (3:56)
05 - New Breed (2:50)
06 - Dog Day Sunrise (4:46)
07 - Body Hammer (5:05)
08 - Flashpoint (2:53)
09 - H-K (Hunter-Killer) (5:18)
10 - click here (5:25)
11 - A Therapy for Pain (9:43)
12 - Your Mistake (1:30)
13 - ¡Resistancia! (2:56)
14 - New Breed (Revolutionary Designed Mix) (2:58)
15 - Replica (Electric Sheep Mix) (3:59)

Enhanced: Nope
Cover Art/Booklet: This is the limited digipack version, which has a paper cover instead of a jewel case. Inside there is more artwork and band photos. The original booklet is loose inside.
Details:
Usually I buy the remix of a cd after the original, partly because they come out afterward. But for the Demanufacture/Remanufacture set, I bought the remix before hand, so I wasn't sure how listening to the unmixed CD would hold up after hearing the jazzed up versions. Luckily, Fear Factory did an excellant job before hand.
There is a mix of songs in this CD ranging from your typical growling thrashing songs to ones with more melody in them. Either way each song is tweaked to perfection, both in recording and in post production mixing. This CD should have a very long replay value as well as the rest of the Fear Factory CD's.
In addtion to the standard tracks, the digipack edition has two new songs as well as two remixes, which for the same price, you would be foolish not to get it.
Bottom Line: One of their better albums. It doesn't have a theme, like Obsolete, but the collection of songs is top notch; good for any metal fan.